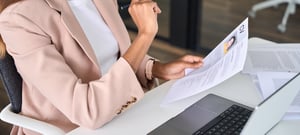 MANAGED IT SERVICES FOR RECRUITING & STAFFING
MSP & IT Support for Recruiting and Staffing
No matter your specialization within the recruiting and staffing industry, one aspect remains critical: the seamless operation of your computer infrastructure and network. Given the rapid evolution of technology, organizations face mounting difficulties in maintaining an in-house IT team equipped with the latest expertise to oversee, administer, and resolve all facets of their operational systems and devices.
Since 2000, PCS has formed successful collaborations with recruiting and staffing enterprises, furnishing indispensable technological aid and managed solutions. Our services are tailored to sustain uninterrupted system performance and bolster overall efficiency, allowing you to sustain optimal productivity levels.
What are Managed Services for Recruiting and Staffing?
Managed services in the context of the recruiting and staffing industry refer to comprehensive solutions provided by external partners to streamline and optimize the contingent workforce process. These services encompass various aspects, such as vendor management, talent sourcing, onboarding, compliance management, payroll, and reporting. Managed service providers (MSPs) act as strategic collaborators, leveraging their expertise, technology, and data analytics to enhance the efficiency of talent acquisition and management. By overseeing the end-to-end workforce cycle, MSPs allow companies to focus on their core competencies while ensuring access to top talent, cost control, and adherence to regulatory requirements. This collaborative approach enables organizations to be agile and responsive in meeting their staffing needs, ultimately leading to improved productivity, reduced risks, and a competitive edge in the market.
PCS Services for Recruiting & Staffing Security and Automation
IT Compliance
Proactive Remote Monitoring & Patching
Microsoft Office 365 Migration & Support
Onsite Support
Device Lifecycle Management
Rapid Response
IT Security Assessment
Business Continuity Solutions
Secure Password Management
Network & Data Security
Security Patch Management
Firewall Installation & Management
Why Choose PCS for Your Recruiting and Staffing IT Services?
In recruiting and staffing, you are uniquely positioned to understand how adding extra talent can help solve an organization's problems and reach goals. A dedicated Managed Service Provider (MSP) aligns with this approach by providing talented individuals and support services to handle an organization's IT needs.
In addition to cost, maintaining an in-house IT department within your agency encounters knowledge gaps when trying to keep up with daily demands impacting IT infrastructure. Partnering with PCS for managed services and customer-first IT support resolves your technology management demands without having the added overhead of a dedicated internal team.
PCS is much more than just an IT company. We're a team of over 200 highly qualified customer support professionals who are also experts in IT.
We're ready to be put to work managing your IT. Contact PCS for IT services and outsourced Helpdesk support.