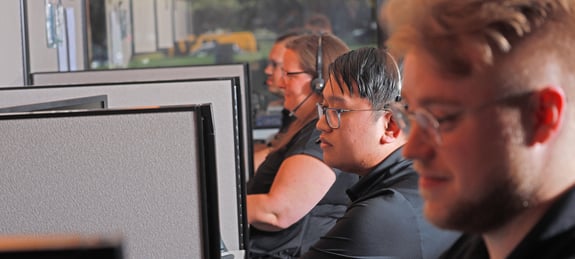 CONTACT PCS
Contact Us
If you're not 100% satisfied with the response time or services of your current IT vendor, fill out our form to receive a Free 30-minute Tech Consultation. We'll schedule a call with you to learn about your business, understand your current IT issues, and discuss solutions together.
Our team has earned over 12,000 5-star customer Smileback reviews. For Managed Services, 24/7 IT Helpdesk support, Cloud, Cybersecurity solutions, and more, our friendly, customer-first technicians are ready to deliver solutions to make your systems more reliable, your team more productive, and your data more secure.
Submit the form to get your Free 30-minute Tech Consultation and enjoy a better IT customer service experience.
PHONE: 877.596.4446
EMAIL: info@helpmepcs.com
For PCS Customers:
If you are an existing PCS customer, call or email us at help@helpmepcs.com for assistance and to create a support ticket.
WHAT HAPPENS NEXT
1
Speak To A Team Member
A PCS team member will reach out to learn about your technology needs and discuss the best service solutions to help.
2
Evaluation
PCS will come onsite to evaluate your current IT infrastructure.
3
Proposal/Agreement
We will share options and recommendations to fulfill your organization's needs.
4
Onboarding
Welcome to the PCS family! You can rest assured that you have the IT service support that you need, whenever you need it.