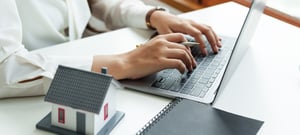 MANAGED IT SERVICES FOR REAL ESTATE
MSP & IT Support for Real Estate
No matter the real estate solutions you offer, one certainty remains: Your computer network's seamless, secure, and dependable operation is imperative. With the rapid progression of technology, maintaining an internal IT team equipped with the latest expertise for overseeing, handling, and resolving all aspects of your organizational infrastructure becomes increasingly formidable.
Since 2000, PCS has formed successful collaborations with real estate professionals, furnishing them with top-tier technological assistance and adept managed services. These provisions ensure uninterrupted system performance and elevate productivity levels, positioning realtors for sustained success.
What are Managed Services for Real Estate?
In the real estate industry, managed services encompass comprehensive and outsourced IT solutions aimed at optimizing business performance and operational efficiency. These services encompass a wide range of offerings, including proactive monitoring, maintenance, security, and technical support for all aspects of the real estate organization's IT infrastructure. Managed service providers (MSPs) cater to specific technology needs, such as property management software, cloud computing, data storage, and cybersecurity. By delegating these responsibilities to MSPs, real estate companies can focus on their core competencies while benefiting from expert IT management, ensuring seamless operations, reduced downtime, and improved client services.
PCS Services for Real Estate Security and Automation
IT Compliance
Proactive Remote Monitoring & Patching
Microsoft Office 365 Migration & Support
Onsite Support
Device Lifecycle Management
Rapid Response
IT Security Assessment
Business Continuity Solutions
Secure Password Management
Network & Data Security
Security Patch Management
Firewall Installation & Management
Why Choose PCS for Your Real Estate IT Services?
Thanks to technology, real estate has transitioned into a new digital era. Listing homes and providing constant communication is key to helping your clients find the homes of their dreams. Most agents, however, don't have time to handle IT issues as they pull attention away from serving clients.
Managed IT services, on the other hand, can help you maximize your technology resources by improving their security, efficiency, and reliability. When you trust PCS for IT support, your organization will enjoy IT infrastructure that fits your needs while keeping your clients' data protected against malicious attacks. Many agencies also rely on Cloud storage and other online resources to backup and manage data like client information, housing data, and more.
Your technology needs to be up and ready so you can instantly jump on new listings that pop up. With PCS helping to manage your IT, you'll enjoy the advantage of reliable technology to deliver fast service and secure communication to help lessen your clients' stress.
PCS technicians stand ready to support you whenever you need us. We provide both 24/7 helpdesk support alongside in-person assistance to handle issues related to office decision issues.
Ready to close that deal? Contact PCS for Real Estate managed IT services.