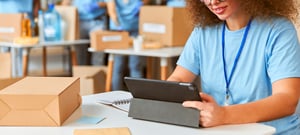 MANAGED IT SERVICES FOR NON-PROFITS
MSP & IT Support for Non-Profits
Regardless of your non-profit's offerings, it's undeniable: A responsive, secure, and dependable computer system and network are imperative. In the face of recent technological advancements, the task of sustaining an internal IT team with the current skills to oversee, manage, and resolve all aspects of your organizational systems and devices has become progressively daunting.
Since 2000, PCS has been a steadfast partner with non-profit entities, delivering essential technological support and managed services. Our collaboration ensures unwavering system uptime and heightened operational efficiency, empowering your non-profit to maintain peak productivity.
What are Managed Services for Non-Profits?
Managed services for non-profits refer to outsourced IT solutions provided by Managed Service Providers (MSPs) to help these organizations effectively manage their technology infrastructure and operations. MSPs offer a range of services, including network monitoring, cybersecurity, data backup and recovery, software updates, and technical support. By partnering with MSPs, non-profits can access expert IT assistance without the need for in-house IT departments, saving valuable time and resources.
PCS Services for Non-Profit Security and Automation
IT Compliance
Proactive Remote Monitoring & Patching
Microsoft Office 365 Migration & Support
Onsite Support
Device Lifecycle Management
Rapid Response
IT Security Assessment
Business Continuity Solutions
Secure Password Management
Network & Data Security
Security Patch Management
Firewall Installation & Management
Technology is incredibly important to us for a variety of reasons. The point-of-sale system that we operate is pretty sophisticated. It's a challenge because our footprint is so large. We go from Monmouth County to Philadelphia to down to Salem County, and when something goes wrong or something goes down, we need somebody there now. We outsource our IT department to PCS. We've been working with them for several years now, and they have been really a tremendous blessing to Goodwill
to help us to fulfill our mission every day.
—Mark Boyd, CEO

The partnership with PCS is one that they are truly a partner and part of the Goodwill family. Over the last 30 years of me working in the world of accounting, I've worked with a lot of technology companies. I have found that PCS is top-notch in their management. The way they deal with problems and how they work together as a vendor and actually as a partner, they believe in our mission as much as we do.
—Stephen Castro, CFO
Why Choose PCS for Your Non-Profit IT Services?
As a non-profit organization, you may have a budget that requires careful management. You may also want to invest in information technology that helps you connect with your cause and supporters. IT services from PCS can help you achieve your technology goals while staying within your budget.
Non-profits and charities have plenty to benefit from when they rely on professional IT services. Your organization can increase the impact of your mission, enhance your efficiency, and improve performance within your sector.
IT technologies will give you the tools you need to measure your effectiveness and find new ways to achieve your goals. Improving your operations through managed technology enables you to focus awareness on your cause instead of spending time fixing IT issues.