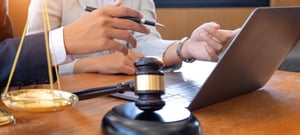 MANAGED IT SERVICES FOR LAW FIRMS
MSP & IT Support for Law Firms
Despite the nature of your firm's legal services, one fact remains undeniable: The efficiency, security, and dependability of your computer infrastructure and network are crucial. Maintaining an in-house IT team with the latest expertise to oversee, administer, and resolve intricate issues across your legal systems and devices has become increasingly daunting in today's rapidly evolving technological landscape.
Since 2000, PCS has effectively partnered with law firms, offering comprehensive technological assistance and meticulously managed services. We aim to ensure uninterrupted system operation, fostering optimal productivity for your practice.
What are Managed Services for Law Firms?
Managed services for law firms refer to outsourcing certain non-core functions and responsibilities to specialized service providers. These external providers take over the management and execution of specific tasks, allowing law firms to focus on their primary legal practices and deliver high-quality services to their clients. Managed services can bring various benefits to law firms, such as cost savings, increased efficiency, access to specialized expertise, and improved overall performance.
PCS Services for Law Firm Security and Automation
IT Compliance
Proactive Remote Monitoring & Patching
Microsoft Office 365 Migration & Support
Onsite Support
Device Lifecycle Management
Rapid Response
IT Security Assessment
Business Continuity Solutions
Secure Password Management
Network & Data Security
Security Patch Management
Firewall Installation & Management
Testimonial
A partner at a national law firm with more than 500 lawyers called and explained "Our entire computer system is down, our tech can't fix it, and someone said you could handle the job."
PCS immediately dispatched two of its best technicians who discovered that the firm's infrastructure had a "heart attack" because their virtualized environment crashed. The team stabilized the system, created desktop support, and reconfigured the network. The firm's entire network was restored by the start of business the next morning. Afterward, PCS provided new, detailed recommendations on how to prevent a similar situation in the future. Within a few months, the law firm turned over their entire IT function to PCS.
"It was a perfect storm, which no one anticipates until you're in it," explains Anthony Mongeluzo, PCS CEO and President. "The law firm had gotten comfortable with their system, and they let a few IT people go. The only person on deck was a junior administrator who lacked the expertise, experience, and the crisis checklist to handle a true IT emergency. The firm first turned to another outside IT vendor for help. After discovering that the depth of the problem and the need for rapid resolution were beyond their capabilities, the vendor recommended PCS."
Why Choose PCS for Your Law Firm IT Services?
Law firms have been using computer technology for research and strategy for about as long as computers have existed. Now, being able to use IT for legal services is more important than ever. The right legal IT services can give you the edge you need to win for your clients.
PCS has the legal IT services you need to stay a step ahead of your competitors. We've helped law firms all across the country find and implement effective IT solutions for their businesses. We understand that internet security and data protection are critical to your law firm. If your data leaks, it could put your clients and your reputation in jeopardy. We handle internet security at the highest levels all the time.
But we do a lot more than that. We are a customer service firm first, and part of that service involves making sure you get IT support geared towards legal IT issues and your specific needs. We have built a huge team of highly qualified and experienced IT experts just for this purpose. The IT professionals who work with you will always have knowledge about your specific issue whether it's installing the latest legal software program or updating your internet security to protect your data from the prying eyes of other law firms.
We understand that for you, time is of the essence—you don't have time to explain your computer and digital issues to every technician who walks through the door. Needing a lean, streamlined office that can respond quickly is part of why you don't want an in-house IT team in the first place. PCS IT professionals answer your call ready to do the job with the experience in legal software needed to get you running fast.
Contact PCS for IT services and support for Law Firms so you can judge our IT services for yourself.