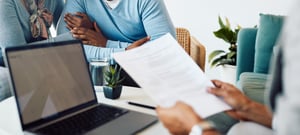 MANAGED IT SERVICES FOR INSURANCE COMPANIES
MSP & IT Support for Insurance Companies
No matter the nature of your insurance products or services, there's one undeniable truth: Your computer system and network's efficiency, security, and dependability are non-negotiable. As technology progresses rapidly, maintaining an in-house IT team with the most current skills and know-how to oversee, manage, and troubleshoot all facets of your organizational systems and devices is increasingly challenging.
For over two decades, PCS has formed successful alliances with professionals in the insurance field, providing essential technological assistance and adeptly managed services. Since 2000, our collaboration has been dedicated to upholding continuous system uptime and elevating productivity levels, tailor-made for the distinctive requirements of your industry.
What are Managed Services for Insurance Companies?
Managed services in the insurance industry refer to specialized IT solutions provided by Managed Service Providers (MSPs) to support and optimize the technology needs of insurance companies. These services encompass a wide range of offerings, including IT support, network monitoring, cybersecurity, data backup, software updates, and strategic IT consulting. MSPs take on the responsibility of managing and maintaining the insurance firm's IT infrastructure.
PCS Services for Insurance Companies Security and Automation
IT Compliance
Proactive Remote Monitoring & Patching
Microsoft Office 365 Migration & Support
Onsite Support
Device Lifecycle Management
Rapid Response
IT Security Assessment
Business Continuity Solutions
Secure Password Management
Network & Data Security
Security Patch Management
Firewall Installation & Management
Testimonial
"To say PCS is one of our most trusted vendors and partners is an understatement. As a business owner, having a highly-skilled IT resource is paramount. I can't tell you in words the confidence I have in this company to complete tasks, follow up on problems, and, in general, make my life easier during the course of daily operations. Moreover, if a problem arises or a team member needs help solving the challenges of a tech hang-up, I can rest easy knowing that PCS will jump right on the issue.
PCS is the best Managed Service Provider I have ever used by far. From their helpdesk to their knowledgeable team leads, the entire staff is aces. Anthony and Traci have assembled a fantastic team and an even better system of follow-up to make sure no job (regardless of size) gets dropped—I can't recommend PCS enough.
If you are looking for an outsourced Managed Service Provider or are struggling with your current IT partner, you MUST take a look at PCS as a solution."
Victor D'Angelo, COO
VillaNOVA Insurance Partners
Why Choose PCS for Your Insurance IT Services?
As an insurance company, you want to take care of your clients so that they continue to use your services. At PCS, we want to take care of you so that you can achieve your business goals. We work across industries to help businesses like yours improve technologies in ways that benefit you. You can count on our team members to handle your IT services so that you can fully focus on your customers.
Thanks to technology, we have more resources than ever for supporting your management of policyholders. IT support from a trusted company will allow you to take advantage of these tools to give your agency competitive advantage. Modern technology sets industry leaders apart from their competition by increasing efficiency and improving customer service. The PCS team will work with you to implement and manage new technology so you can enhance company performance.
Providing helpful IT services is our policy. Contact PCS for Insurance IT services and Helpdesk support.