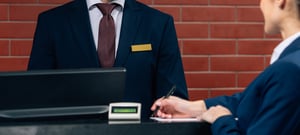 MANAGED IT SERVICES FOR HOSPITALITY
MSP & IT Support for Hospitality
No matter the nature of your hospitality ventures, it's undeniable that a swift, secure, and trustworthy computer infrastructure and network are imperative. Given the rapid technological advancements, it has become progressively difficult for establishments to onboard in-house IT personnel possessing the current insights and proficiencies essential for attentively overseeing, managing, and remedying all aspects of their operational frameworks and devices.
Since 2000, PCS has effectively joined forces with hospitality experts to deliver essential technical support and expertly managed solutions, ensuring seamless system operation and maximizing operational efficiency.
What are Managed Services for Hospitality?
In the hospitality industry, managed services encompass comprehensive IT solutions and support provided by external service providers. These offerings are designed to streamline and optimize technology operations within hotels, restaurants, and related establishments. The array of services includes network management, cybersecurity, data backup, cloud services, hardware maintenance, and software updates. By delegating these crucial IT tasks to experienced managed service providers (MSPs), hospitality businesses can focus on their core competencies while ensuring a seamless and efficient technology infrastructure. MSPs proactively monitor systems and offer round-the-clock technical support, reducing downtime and potential disruptions, leading to enhanced operational efficiency and greater guest satisfaction. Embracing managed services empowers the hospitality industry to embrace the digital age, leveraging cutting-edge technologies to deliver exceptional guest experiences and maintain a competitive edge in the market.
PCS Services for Hospitality Security and Automation
IT Compliance
Proactive Remote Monitoring & Patching
Microsoft Office 365 Migration & Support
Onsite Support
Device Lifecycle Management
Rapid Response
IT Security Assessment
Business Continuity Solutions
Secure Password Management
Network & Data Security
Security Patch Management
Firewall Installation & Management
Why Choose PCS for Your Hospitality IT Services?
Due to developments in hospitality technology, many guests expect tech-savvy service from their hotels. From guest records to the check-in process, you can now digitize a large portion of your operations. Whether you want to upgrade your existing technology or switch to something new, PCS can help! We have IT specialists ready to assist businesses throughout the hospitality industry.
A well-maintained IT system makes your operations smoother and guests happier through enhanced communications to ensure consistency throughout your hotel and resort. Furthermore, an improved information system will help you offer more accurate booking and add more features your guests will love. When you partner with an IT service that understands your needs, you can focus on your goals of maximizing guest experience.
Helpful IT management is our key amenity. Contact PCS for Hospitality IT service solutions.