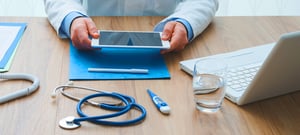 MANAGED IT SERVICES FOR HEALTH & MEDICAL
MSP & IT Support for Health and Medical
Regardless of the nature of your health and medical offerings, there's a fundamental requirement: Your computer infrastructure and network must operate swiftly, securely, and dependably. Given the rapid technological growth, healthcare establishments face increasing difficulties in maintaining an internal IT team with the latest expertise to oversee, administer, and resolve all dimensions of their operational frameworks and devices.
Since 2000, PCS has established effective partnerships with health and medical experts. We provide essential technological aid and expertly managed solutions to sustain uninterrupted system performance and ensure optimal productivity.
What are Managed Services for Health and Medical?
Managed services for the health and medical industry involve IT support and solutions that cater to the specific needs of healthcare organizations. These services provide essential IT functions such as infrastructure management, data security, software support, and 24/7 monitoring. By leveraging managed services, healthcare institutions can focus on delivering quality patient care while ensuring their IT systems remain efficient, compliant, and resilient in the face of technological advancements and security threats.
PCS Services for Health & Medical Security and Automation
IT Compliance
Proactive Remote Monitoring & Patching
Microsoft Office 365 Migration & Support
Onsite Support
Device Lifecycle Management
Rapid Response
IT Security Assessment
Business Continuity Solutions
Secure Password Management
Network & Data Security
Security Patch Management
Firewall Installation & Management
Testimonial
"For nearly a decade, PCS has provided Legacy Treatment Services with exceptional guidance, provision, and support of our Managed IT/Services and Security efforts. As a nonprofit organization providing 24/7 urgent behavioral health support, we fully comprehend the essential needs for exceptional managed IT/Services. PCS is not a vendor, they are a partner and quintessential member of our community. PCS plainly helps Legacy Treatment Services be a better organization. Anthony, Traci and the entire team not only understand our mission and the way in which we operate, they have helped shape it. "
Roy Leitstein, President & CEO
Legacy Treatment Services
Why Choose PCS for Your Health & Medical IT Services?
If you are providing healthcare support as a business, you owe it to yourself and your clients to have the best healthcare IT support possible. Healthcare and medical service providers cannot function without computers and digital technology. From electronic health records and email communications to insurance and billing, healthcare providers and medical professionals use computer technology and digital data in every aspect of their business.
Modern technology allows clients to get their medical information faster, so they can act quickly during health emergencies. It also helps medical and healthcare professionals get paid faster and empowers healthcare businesses to run more smoothly. Because each of these benefits depend upon technology, reliable, professional IT services are critical for keeping medical professionals' and doctors' offices operating at peak performance.
Trust PCS to handle your tech health. Contact PCS for Medical and Healthcare IT services and outsourced Helpdesk support.