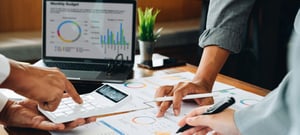 MANAGED IT SERVICES FOR FINANCE
MSP & IT Support for Finance
No matter the nature of your financial offerings, it's undeniable that your computer infrastructure and network must operate swiftly, securely, and dependably. Within the dynamic financial environment, organizations face mounting difficulties maintaining an in-house IT team equipped with the latest expertise to oversee, handle, and resolve all dimensions of their operational frameworks and devices.
Since 2000, PCS has established successful partnerships with financial institutions to deliver essential technological support and proficiently managed services. These services are crucial for maintaining uninterrupted system operations and maximizing productivity within the financial sector.
What are Managed Services for Finance?
Managed services for the finance industry pertain to outsourcing the management and support of IT infrastructure and services to specialized providers. These services are tailored to meet the unique demands of financial institutions, including banks, investment firms, insurance companies, and more. By entrusting these critical aspects to MSPs, finance companies can enhance their operational efficiency, strengthen data security, stay compliant with industry regulations, and focus on their core business objectives with the assurance that their IT needs are in capable hands.
PCS Services for Finance Security and Automation
IT Compliance
Proactive Remote Monitoring & Patching
Microsoft Office 365 Migration & Support
Onsite Support
Device Lifecycle Management
Rapid Response
IT Security Assessment
Business Continuity Solutions
Secure Password Management
Network & Data Security
Security Patch Management
Firewall Installation & Management
Testimonial
"My experience with PCS goes back about 12 years. Prior to that, I was with another company providing computer services. I am not saying they were hard to work with because they were fine. Therein lies the problem, they were fine. But I believe, Thunderbolt required something extraordinary. We are a financial service organization and in that, we need prompt service response. We cannot wait for a couple of hours when the system is down. We process the finances of more than 3,500 members. It is impossible to tell them we are down for a couple of hours waiting for service and they will have to wait to access their money.
Without question, my initial trial of PCS for Thunderbolt exceeded even my expectations. If we have any issues, I can contact a person(s) at PCS immediately, who knows not only how to make repairs but also knows our business. Am I satisfied?? NO!! We are ecstatic we chose PCS. This is their business to lose. I look no farther."
Bob Millard, President/CEO
Thunderbolt Area Federal Credit Union
Why Choose PCS for Your Finance IT Services?
In finance, your firm likely wants to become as efficient as possible while keeping the financial data of your clients and organization safe. At PCS, we work with banks, credit unions, and financial planners to develop IT solutions that scale to the needs and growth of each business.
IT support services from PCS allow your organization to complete fast and secure business in brand-new ways. Technologies such as Cloud-based storage can help you keep your data consistent while being accessed securely from multiple locations. Bank accounts can update in real-time for increased accuracy and efficiency allowing your clients' data to continue to stay safe and secure.
When you use electronic records, PCS can help keep them secure with remote monitoring and other security services. As a result, you can provide faster service than before without compromising your clients' information.
When it comes to IT time savings, PCS pays out in dividends. Contact us for Financial IT Services and Support.