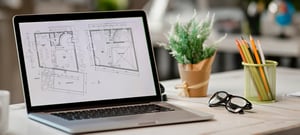 MANAGED IT SERVICES FOR ARCHITECTURE & ENGINEERING
MSP & IT Support for Architecture & Engineering
No matter the scope of your architectural or engineering projects, one fact remains certain: Your computerized infrastructure and network must operate swiftly, securely, and dependably. In the current digital realm, it's becoming progressively tougher for firms to maintain an internal IT team equipped with the current expertise to effectively oversee, manage, and resolve every facet of their operational systems and devices.
Since the year 2000, PCS has been a trusted partner for the architecture and engineering industry, furnishing crucial technical support and proficient managed services. Our mission is to ensure system uptime and enhance productivity within the architecture and engineering sectors
What are Managed Services for Architecture & Engineering?
Managed services for the architecture and engineering industries refer to a comprehensive and specialized approach to outsourcing IT management and support. These services cater to the unique technological needs of architectural and engineering firms, ranging from system monitoring, maintenance, security, and support. Ultimately, managed services empower these industries to stay ahead in a competitive landscape, delivering high-quality designs and solutions to their clients while ensuring a secure and stable IT environment.
PCS Services for Architecture & Engineering Security and Automation
IT Compliance
Proactive Remote Monitoring & Patching
Microsoft Office 365 Migration & Support
Onsite Support
Device Lifecycle Management
Rapid Response
IT Security Assessment
Business Continuity Solutions
Secure Password Management
Network & Data Security
Security Patch Management
Firewall Installation & Management
Why Choose PCS for Your Architecture & Engineering IT Services?
From blueprints, schematics, and client communications, architecture and engineering firms rely on technology to access large amounts of data on a daily basis. Information technology systems are crucial in helping to render plans, make calculations, and simplify complicated processes. Maintaining reliable access and robust security measures requires a carefully managed IT infrastructure capable of meeting the demands of a deadline-focused environment.
Because in-house IT departments can be expensive and encounter knowledge gaps when trying to keep up with daily pressures placed upon IT infrastructure, architecture and engineering firms can rely on managed IT services from PCS to maintain all their systems correctly.
Why PCS? Because we're much more than just an IT company. In fact, we don't even think of ourselves as an IT company. We're a customer service company that happens to be great at IT. We have a team of over 200 highly qualified IT professionals with tons of experience with engineering software programs and systems you depend upon.
Let's build a technology partnership. Contact PCS for Architecture & Engineering IT Solutions.