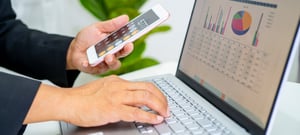 MANAGED IT SERVICES FOR ACCOUNTING
MSP & IT Support for Accounting
Despite the range of accounting solutions or financial services you offer, one thing is certain: Seamless operation of your computer infrastructure and network is essential. Maintaining an in-house team with the latest expertise to oversee, control, and resolve every facet of your financial systems and tools is becoming increasingly complex in the accounting industry.
Since 2000, PCS has effectively collaborated with accounting firms, providing essential technical assistance and managed solutions to ensure uninterrupted system functionality and optimal productivity levels.
What are Managed Services for Accounting?
Managed services for the finance industry pertain to outsourcing the management and support of IT infrastructure and services to specialized providers. These services are tailored to meet the unique demands of financial institutions, including banks, investment firms, insurance companies, and more. By entrusting these critical aspects to MSPs, finance companies can enhance their operational efficiency, strengthen data security, stay compliant with industry regulations, and focus on their core business objectives with the assurance that their IT needs are in capable hands.
PCS Services for Accounting Security and Automation
IT Compliance
Proactive Remote Monitoring & Patching
Microsoft Office 365 Migration & Support
Onsite Support
Device Lifecycle Management
Rapid Response
IT Security Assessment
Business Continuity Solutions
Secure Password Management
Network & Data Security
Security Patch Management
Firewall Installation & Management
Testimonial
"For over ten years PCS has been our trusted managed IT partner. They have grown with us as a company, working closely to keep our systems secure and up to date. PCS provides us with reliable and timely service for everything from minor problems to special projects and major upgrades."
Bridget K. Fee, Asst. Business Manager
Haefele Flanagan
Why Choose PCS for Your Accounting IT Services?
In today's accounting industry, your firm likely wants to become as efficient as possible while keeping your clients' data safe. At PCS, we serve businesses across a wide range of industries including accounting. We work with firms throughout the country to develop IT solutions that scale to the needs and growth of each business. Let's work together to achieve your business goals and provide top service to your customers.
IT support services from PCS allow your firm to complete fast and secure business in new ways. Technologies such as Cloud-based storage can help you keep your data consistent while being accessed securely from multiple locations. Business records can update in real-time for increased accuracy and efficiency.
When you use electronic records, PCS can help keep them secure with remote monitoring and other security services. As a result, you can provide faster service than before without compromising your clients' information.
Contact us and watch the benefits add up.