The term "VPN" gets thrown around more often than others when it comes to your access. Whether it be for business or personal, being told to have a VPN has always been standard protocol on our systems. But what exactly is it? Where can we use it? What happens if you don't have it? We're here to tell you what you need to know and how it works!
What Is A VPN?
VPN stands for Virtual Private Network. It gives you online privacy and anonymity by creating a private network from a public internet connection. They mask your IP (internet protocol) address so your online actions are virtually untraceable. Virtual Private Networks also secure connections to provide greater privacy than even a secured Wi-Fi hotspot.
Why Do You Need A VPN Service?
Having a VPN service is not only important for business settings, but you can also get it for your personal devices! When you're on the internet, especially on an unsecured Wi-Fi network, you could be exposing your private information and browsing history.
Imagine yourself being at an airport or even a coffee shop where there is no secured service. You are browsing through your emails and even working on a big project for work that is due in a few days. The amount of clicking you do and what is being put into the unsecured network could potentially get into by a stranger using the same network. Unless it's a secured network that allows you to put in a password when trying to connect, your information is vulnerable.
Having the ability to not worry about someone else getting into your information is one way to keep your data and your company's data secured. Especially when most companies are working remotely, you don't want to have that thought in the back of your mind about whether or not someone can access your company's information.
How Does A VPN Protect Your IP Address And Privacy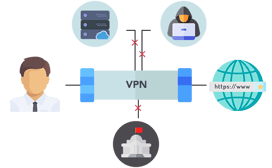 The VPN essentially creates a data tunnel between your local network and an exit node in another location. It makes it seem like you're miles away in another place when really you are home! Having that luxury allows your location to stay private, while also keeping data and information private. Think of it like a sturdy tunnel that no one can get into.
Virtual Private Networks use encryption to scramble data when it's sent over a Wi-Fi network and encryption makes the data unreadable.
Without a VPN, your internet service provider can know your entire browsing history. With a VPN, your search history is hidden. That's because your web activity will be associated with the VPN server's IP address, not your own.
What A VPN Can Hide
Browsing history
IP address and location
Location for streaming
Devices
Web activity
Where Can You Use Your VPN?
The answer? Anywhere! Once you have it, you can use it to be able to keep your data secured. While traveling, at home, in the office, and even while enjoying a cup of coffee at your nearest coffee shop. Having the VPN on your laptop, tablet, iPad, and even any phone device will help make sure your information is protected.
Click here to learn more about PCS.