HELPDESK IT SUPPORT
PCS 24/7 LiveLine
What is an IT Helpdesk?
An IT helpdesk is an individual, group, organizational function, or external service that an organization calls to get help with an IT support issue 24/7.
Many companies use IT services regularly in their business, but do not have a dedicated IT support team. A managed IT helpdesk can be the ideal solution, and PCS is the best choice. Contracting with PCS for helpdesk services means that access to fast IT assistance for any of your employees is just a phone call away.
Need help? Contact us to sign up for live 24/7 IT helpdesk support.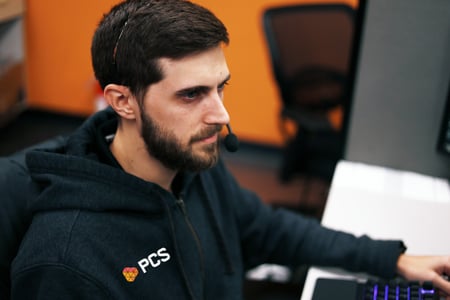 What Does PCS IT Helpdesk do?
When we say IT helpdesk, we don't mean just a call center that answers your calls, we mean providing the best customer service for our partners.
At PCS, we're here 24/7 to help you with any IT issues you could have. With our knowledgeable team to help, we're here for you as a partner through all your technology needs.
Response
Our team of technicians are available 24/7 to respond to your questions and resolve your issues. IT help should not have to wait until tomorrow, it should be resolved immediately.
Escalation
If the issue is a little more than just a simple fix, the next step is to route to a next-tier level to help resolve your issues on a deeper level.
Knowledge-based
Our knowledge-based IT support team members at PCS will not only resolve your issue but educate you on what happened and ways to prevent the issue from reoccurring.
Connect with a PCS IT Support Expert in Under 30 Seconds
What is PCS LiveLine?
When you choose PCS as your IT support service provider, you'll gain a helpful partner who stands ready to deliver assistance whenever you need it. We created LiveLine because you shouldn't have to wait for immediate help when a question or issue arises.
When you pick up the phone to call our LiveLine for live IT support, you will speak to a PCS team member within 30 seconds. Helpful, friendly, experienced, and fast are the core tenets of our LiveLine support service.
We understand that you've dealt with difficult tech support before, but with us, it's personal. At PCS, we are a team of friendly IT support staff always ready to help with your technology needs when you need us.
With PCS LiveLine there are:
No automated scripts giving you suggestions you've already tried

No waiting for IT help until the next business day

No complex technical jargon meant to frustrate or confuse you
With LiveLine, when we say live 24/7 support, we mean just that. All our PCS IT support team members are knowledgeable, friendly, and empathetic. We will walk you through the steps of solving your problem in a way you and your organization will understand.
Contact us to implement PCS LiveLine for all your IT support needs.

PCS IT HELPDESK SUPPORT
Always On. Always Connected. Your 24/7 Tech Partner.