Starting June 8, Amazon's smart devices will automatically be linked together all across the U.S. as a part of their Amazon Sidewalk network. We're here to tell you what happens when it launches and what this means for you and your internet connection at home.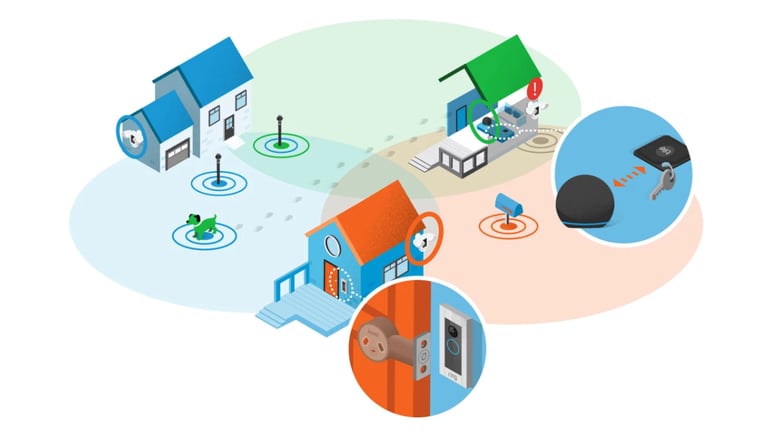 Amazon Sidewalk is a shared network that is supposed to help their devices work even when you personally do not have an internet connection in your home. Amazon Sidewalk connects with your neighbors' connection so that way their products are still able to work even when you or your neighbors have weak or no connection. The goal is to create a low bandwidth network bridging all devices so that users can reboot malfunctioning equipment and even locate missing objects outside of the house.
However, Amazon Sidewalk runs off of device owners' personal Wi-Fi which posts some security concerns.
Operated by Amazon at no charge to customers.
What Devices Support Sidewalk
Ring Floodlight Cam (2019)
Ring Spotlight Cam Wired (2019)
Ring Spotlight Cam Mount (2019)
Echo (3rd gen and newer)
Echo Dot (3rd gen and newer)
Echo Dot for Kids (3rd gen and newer)
Echo Dot with Clock (3rd gen and newer)
Echo Plus (all generations)
Echo Show (all models and generations)
Echo Spot
Echo Studio
Echo Input
Echo Flex
Tile. Bluetooth tracker owners can use to keep tabs on their keys, wallet or other important items
Benefits And Concerns About Amazon Sidewalk
This seems to be ideal for users who want their Ring or Echo to continuously work even when their Wi-Fi is down. Having the capability to still use your phone while seeing your cameras and/or Echo to still play music can help in multiple ways when your Wi-Fi connection is weak … But do you ever think how strange it is that you are using your neighbor's connection to be able to make your devices work?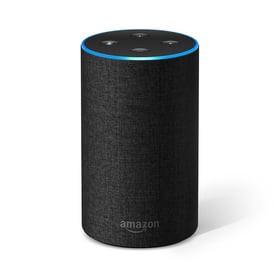 Take your Echo for example. Sometimes your light on it will show red or even yellow when your connection is weak or does not work. Instead of not having the device working, your device instead takes the connection from your neighbor to be able to allow the Echo to function normally … It's like nothing ever happened, except that you are basically taking someone's connection from their home to run your devices. Strange to think about, isn't it? Your completely throwing out the idea of keeping your connection protected by sharing your connection with other Amazon users.
So, the benefit of this is that your Amazon Devices will continue to work, but the concerns are whether or not your internet connection is actually secured since you're sharing your connection with other Amazon users. The biggest issue is thinking if hackers will find ways to get into your accounts due to this.
Ways You Can Opt Out Of Sidewalk
Using The Alexa App
In your Amazon Alexa app, select the "More" icon at the lower right hand corner of the screen
Go to "Settings" > "Account Setting" > "Amazon Sidewalk." (Just a note: if you're not connected to any Echo or Ring devices, you will probably not see this option.)
Use the toggle to disable Sidewalk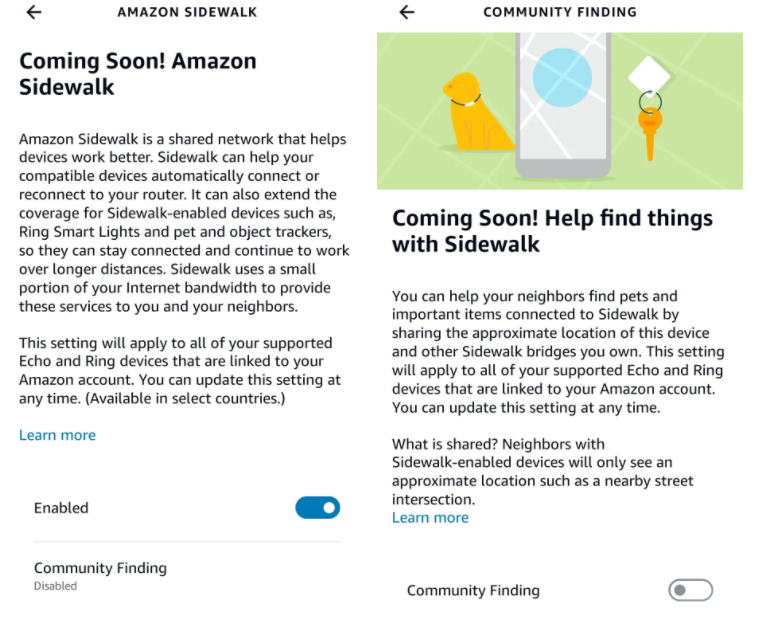 Using The Ring App

In your Ring app, go into your Control Center by tapping the three-lined icon in the upper left-hand corner of the screen
Select "Sidewalk" and use the slide button to opt-out
You'll be asked to confirm your opt-out. You can opt back in the same way.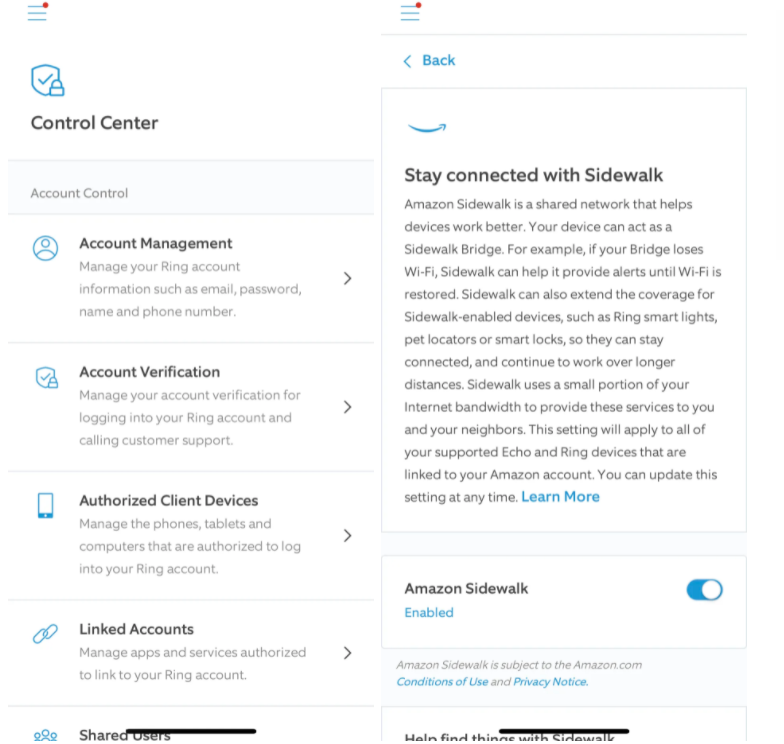 You're not stuck using Amazon Sidewalk if you don't want to!
Click here to learn more about PCS.